Frontman Band Hardcore Biohazard Hengkang
http://rocksoundhardcore.blogspot.com/2011/06/frontman-band-hardcore-biohazard.html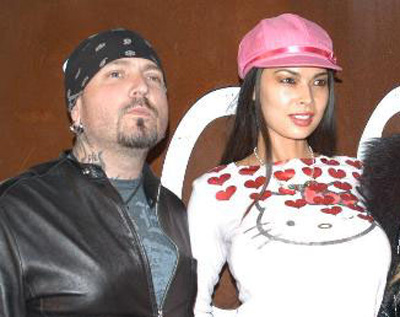 Jakarta
– Band hardcore berpengaruh asal New York, AS, Biohazard, baru saja ditinggalkan oleh pemain bass yang juga merupakan vokalis mereka, Evan Seinfeld. Saat berita ini ditulis, belum diketahui lebih lanjut apa alasan sang
frontman
yang sekaligus bintang film porno dan mantan suami Tera Patrick itu meninggalkan band.

Blabbermouth.net
melansir pernyataan gitaris Bobby Hambel yang membenarkan hal itu. "Kami mempunyai sejarah panjang bersamanya, tapi sekarang waktunya untuk sebuah perubahan. Kami harap selalu berharap yang terbaik untuk Evan," kata Hambel.
Walhasil, Biohazard yang telah dijadwalkan tampil di Download Festival pada 12 Juni mendatang bersama band-band seperti Linkin Park, Bullet For My Valentine, Disturbed dan lain-lain harus segera mencari pengganti Seinfeld. Scott Roberts, gitaris Cro-Mags yang pertama kali membantu Biohazard ketika Carmine Vincent cedera sekitar 2001 dan kemudian turut membantu rekaman
Means to an End
, pun ditunjuk untuk mengisi posisi kosong itu.
Sayangnya, Seinfeld sempat merekam album terbaru Biohazard sejak yang terakhir,
Means to an End
, rilis enam tahun silam. Hingga awal 2010 lalu, ia masih terlihat sangat bersemangat ketika menceritakan rencana pengerjaan album Biohazard.
"Selanjutnya saya akan mengerjakan album baru Biohazard. Kami akan mempersembahkan album itu untuk saudara kami, Peter Steele dari Type O Negative. Album itu diproduseri oleh Toby Wright [Korn, Slayer, Motley Crue, KISS, Fear Factory, In Flames, Stone Sour dan Ozzy Osbourne]. Kami sudah menulis setengahnya, dan saya merasa ini waktu yang tepat bagi Biohazard untuk bangkit dan membawa album yang berat untuk meledakkan
scene
," ujar Seinfeld seperti dikutip dari
TeethOfTheDivine.com
.
Kini album tersebut telah rampung dan akan diikuti oleh rencana Biohazard untuk melakukan tur konser di Amerika Utara, Amerika Selatan, Eropa, Asia dan Australia. Album itu telah dijadwalkan untuk dirilis pada akhir musim panas tahun ini.
SUMBER :
indofiles.org