THE WAVE (Group of music who all have a passion of making good & heartfelt music)
http://rocksoundhardcore.blogspot.com/2011/05/wave-group-of-music-who-all-have.html

The Wave,
begitulah orang sana nyebut beberapa kelompok band yang akan kita bahas. Mereka bukan sebuah Supergrup, or sebuah organisasi. Tapi The Wave disebut sebagai sebuah Genre baru terhadap band yang menurut situs
www.fuckyeahthewave.tumblr.com
sebagai sekumpulan band yang memiliki passion baik dalam membuat musik dan juga musik yang merenyuhkan hati (apa sih). Yap The Wave adalah sekumpulan band Emotive Hardcore Modern, ga emotive hardcore juga sih, yang jelas di genre masing-masing mereka mempunyai tempat sendiri di hati fans-nya.
agak koreksi dikit (gw dapet dari blog tumblrnya vokalis touche amore)
nama The Wave diambil dari seorang personel make do and mends waktu ngumpul "we the fucking wave!" , yang kebetulan touche amore, pianos, make do and mends, la dispute, defeater juga udah temenan dekat. maka dari itu ibaratnya NYHC YOUTH CREW taun 90-an dengan Youth of today, Judge, Bold dll. nah ini mid-2000-an. :)
band-band tersebut adalah,
Touché Amoré, La Dispute, Defeater, Pianos become the Teeth, and make do and mend.
Akan kita jelasin dibawah satu-satu. (sok asik banget gw)
1. La Dispute
Band asal Vancouver yang terbentuk dari 2005 ini memiliki genre Screamo, Indie Rock dan juga Post-hardcore (menurut om wiki). Bisa dibilang musikalitas mereka lengkap banget, mulai dari Guitar Skill, Bass, sampe Teknik vokal, sampe penggunaan instrumen steel-guitar. Yang gw suka dari band ini adalah cara nyanyi si Jordan (vokalisnya) yang seperti membaca puisi dengan emosi-nya yang asik banget. Apalagi lirik-nya yang 'GALAU' dan bener-bener puitis. bisa lah gw sebut sebagai Rock-Sastra.
mereka juga punya banyak EP, terhitung dari 2005 berdiri, udah 7 EP mereka rilis. Yang gw recomend dr EP mereka itu series Here,Hear (I , II, dan III), beda sama album2 mereka yang lain. Kaya denger dialog.
Recomended Album: Somewhere at the Bottom of the River Between Vega and Altair
2. Touche Amore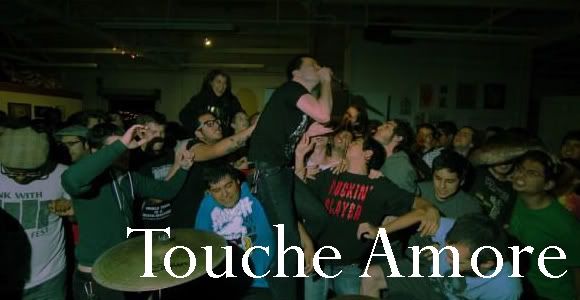 Band asal California ini terbilang band yang cukup baru, terbentuk dari 2007. Genre mereka disebut Post-Hardcore. Yang gw suka dari mereka itu, masih make sound-sound gitar oldschool, like distorsi yang kasar, vokal yang rough, dan juga komposisi lagu yang ga bisa ditebak. Liriknya juga oke-oke berat (maklum gw pendengar musik beserta lirik juga), suara vokalnya Jeremy Bolm juga khas. Mereka temen deketan sama Vokalisnya Thursday, Geoff Rickly, duet bareng di lagu "History Reshits Itself".
Buat yang bosen sama Musik Hardcore Punk yang gitu-gitu aja (musik cepat, breakdown modern, dan choir-choir yang berkesan dipaksa) Touche Amore bisa jadi alternatif.
Recomended Album: ...To the Beat of a Dead Horse

3. Pianos Become The Teeth
dibentuk tahun 2006 asal Baltimore, ini merupakan band bergenre Screamo (but not 'scenester screamo'). Komposisi mereka bisa dibilang agak brutal, intens, dan juga drop tempo yang asik. Bisa dibilang ini adalah band Screamo Modern yang mempunyai Touch-of-art. Album mereka 'Old Pride'(2009) dipuji abis-abisan di berbagai majalah musik. Setelah dengerin album ini gw langsung berpikir "this one must be writing their song from their deep of their heart" no tepu-tepu, or no ngikutin arus. Apalagi dengan lagu-lagunya yang punya part post-rock yg kental kaya dengerin Explosions in the sky or mogwai.
Recomended Album: Old Pride
4. Defeater
Band dari Massachusetts baru terbentuk 2008 lalu, dan langsung buat album Full berjudul Travels. Band ini bergenre Hardcore Punk yang lebih modern, tapi ga bisa disebut juga newschool hardcore. Musik mereka cepet, hentakan drum-nya gw suka banget, plus permainan gitar dengan riff-riff yang ngagetin (apa sih). Plus yang gw suka dari mereka adalah mereka mempunyai awareness terhadap lingkungan dan sosial yang besar. Seperti Pengemasan album dengan teknik percetakan yang 100% Recycled materials. Dan konsep album yang bener-bener dikonsepin. Kalo ada band yang bisa ngegambarin tentang Perang Dunia ke II dari sisi korban, cuman Band ini jawabannya di album "Travels". Gw suka banget sama hampir semua komposisi musiknya dan juga lirik-lirik mereka.
Recomended Album: Travels
5. Make Do and Mend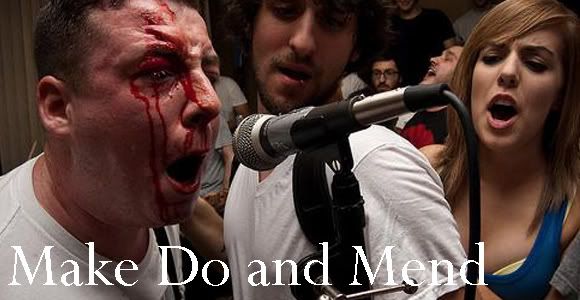 Mereka maybe salah satu band dari The Wave ini yang mempunyai genre agak jauh dari Hardcore. Karena lebih ke Punk Rock or Indie Rock. Gw belum begitu dengerin yang ini, baru dengerin satu album aja. Hmm, mereka juga punya lirik yang agak sarkas dan oke punya.
Recomended Album: Bodies of water
Dan uniknya dari The Wave masing-masing band ini ada yang udah ngerilis Split EP bareng. Kaya Touche Amore sama La Dispute, Touche Amore sama Make do and Mend, dan Pianos Become the Teeth dengan The Saddest Landscape. Dan mereka emang sesama band emang udah temenan. jadilah dibilang geng the wave
Intinya The Wave ini sekumpulan band yang dirasa fansnya mempunyai musik-musik yang nyentuh Hati, lirik-liriknya yang asooy, dan juga kualitas musik yang berkelas di genre masing-masing.
ada beberapa band yang recomended dengan gaya musik hampir serupa dengan The Wave:


dan ada beberapa lagi macam:
-Thursday
- Verse (earlier album)
- The Saddest Landscape
- Yaphet Kotto
- Loma Prieta
- Merchant Ships
- Swing Kids
- Orchid

kalo mau tau, search aja google, ngerti-lha-ya-maksud-gw-apa
sumber