Black Sabbath
http://rocksoundhardcore.blogspot.com/2011/05/black-sabbath.html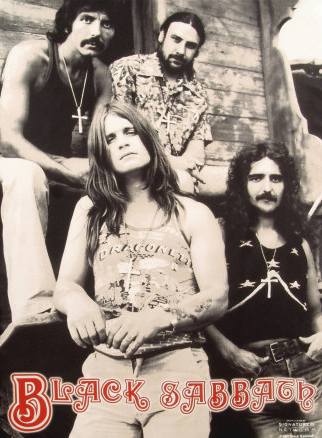 Sejarah Black Sabbath
Black Sabbath
Ini dia pencetus "Metal"……Black Sabbath dengan tulang punggung seorang ozzy, band ini jadi "Godfather" di dunia cadas-cadasan.
Heaven and Hell
Inilah band yg disebut paling bertanggung jawab atas menyeberbya wabah metal hingga saay ini. Musik usungan Black Sabbath merupakan cikal bakal lahirnya thrash metal, doom metal, death metal, gothic metal, dan sejenisnya. Permainan gitarisnya, Tommy Lommi, juga dibaptis sebagai peletak riff metal yang telah mempengaruhi ratusan, ribuan, bahkan jutaan gitaris di dunia. Sementara, Ozzy Osbourne, vokalisnya juga mendapat julukan "The Godfather of Metal" dan belum tergantikan hingga saat ini(Menurut saya tidak akan pernah).
Hebatnya setelah menjalani karir selama 40 tahun, Black Sabbath masih eksis. Bahkan, band yang dibentuk di Birmingham, Inggris sedang tur untuk reuni era album 'Heaven and Hell' (1980). Hanya, bukan nama Black Sabbath yang dipakai untuk tur, tapi sebagai band Heaven and Hell.
Keputusan tidak mengambil nama Black Sabbath dipatenkan Tony karena takut fans mereka nanti bingung. Karena Sabbath baru selesai tur dg Ozzy. Sekarang posisi Ozzy diganti oleh Ronnie James Dio, eks vokalis Rainbow. Apalagi Ozzy sedang merampungkan album solo terbarunya. Selain itu juga diperkuat oleh bassis Geezer Butler dan Vinny appice, mantan dramer Sabbath era 'Mob Rules' (1981) yang masuk menggantikan Bill Ward.
Tapi, dg nama Heaven and Hell Tony jauh merasa lebih nyaman. Karena ia merasa tak terbebani membawakan lagu lam Sabbath. "Kami telah menjalani 10 tahun terakhir bersama Ozzy, dan itu sangat menyenangkan. Tapi, masih banyak fans kami yang belum mendengar lagu dari album 'Heaven andHell'," ungkapnya beralasan.
Awalnya, ide reuni 'Heaven and Hell' karena gara-gara Rhino Records ingin merilis kompilasi 'Black Sabbath: The Dio Years'. Dan pihak label meminta beberapa lagu untuk mendukung album tersebut. Tony seteju dan menyerahkan 3 album kolaborasinya dengan Ronnie, dg judul "Shadow of the Wind", "The Devil Cried", dan "Ear in the Wall".
"Senang sekali rasanya bisa menulis lagu lagi bersama Ronnie. Kami menyatukan ide dedngan sangat lancar, dan kami betul-betul kombinasi yang kuat," tandas Tony bersemangat.
Dari Blues ke Ilmu Hitam
Polka Tulk adalah nama awal yang dipakai Anthony "Tony" Lommy, John "Ozzy" Osbourne, Willian "Bill" Ward dan Terence "Geezer" Butler pertama kali bergabung dan membentuk band saat 1967. Saat itu, musik yang mereka mainkan sangat kental dengan Blues. Tak lama, nama tersebut diubah menjadi Earth dan beralih mengusung Fusion Blues.
Februari 1969, nama Black Sabbath resmi dipakai, diambil dari salah satu lagu Polka Tulk ciptaan Geezer. Ia sendiri mengambil nama itu dari novel-novel bertema Ilmu hitam ciptaan Dennis Wheatley yang digemarinya. Seirng dengan perubahan nama, imej penampilan dan musik yang dimainkan Black Sabbath ikutan bergeser.
Setelah setahun tur, Tony Lommy dkk dikontrak sebuah label kecil bernama Philips Records di inggris. Lagu pertama berjudul 'Evil Woman (Don't Play Your Games With Me)', merupakan lagu daur ulang milik Crow, band asal Amerika. Tiga bulan kemudian, label tersebut dirilis ulang oleh label Vertigo, bersama dengan debut album 'Black Sabbath'. Kendati digarap dengan dana minim, sekitar 600 pound, namun album yang dikerjakan bersama produser Rodger Bain tersebut bisa menempati peringkat 8 terlaris di Inggris selama 5 bulan
Ronnie James Dio
(lahir Ronald James Padavona pada 10 Juli 1942 di Portsmouth, New Hampshire), adalah seorang penyanyi heavy metal yang dikenal sebagai anggota Black Sabbath, Rainbow, dan Dio. Saat ini ia sedang tur bersama dengan Tony Iommi, Geezer Butler, dan Vinny Appice dalam Heaven and Hell.
Nama belakangnya diambil dari anggota mafia Johnny Dio, dan mulai ia gunakan di awal 1960-an dalam band Ronnie Dio and the Prophets. Ia mulai bergabung dengan Black Sabbath dalam album Heaven and Hell.
Ozzy Osbourne
John Michael Osbourne, lebih dikenal sebagai Ozzy Osbourne (lahir di Aston, Birmingham, West Midlands, Inggris, 3 Desember 1948; umur 61 tahun), merupakan seorang penyanyi berkebangsaan Inggris. Ia adalah vokalis grup musik heavy metal Black Sabbath yang terkenal pada tahun 1970-an.